Welcome to the World of 10ticks Teachers
There are 1000s of teachers around the world who use 10ticks. 10ticks worksheets have become a staple of maths departments around the world. The worksheets are used in a wide variety of ways and this page highlights the many 10ticks teachers who use the worksheets as part of their lessons.
Mr. Ayres of Barnard Castle Prep School is a 10ticks Teacher.
Mr. Ayres uses the worksheets to aid his lesson planning, during lessons, for homework, group activities, individual consolidation, for exercises to provoke discussion, reinforcement and introductions.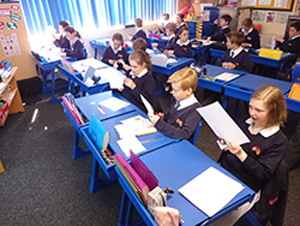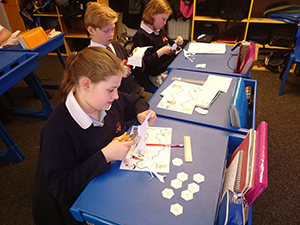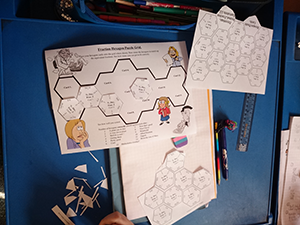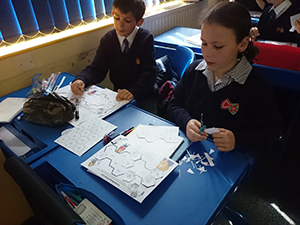 "We use 10ticks across the school both for homework and in lessons, the variety of tasks offered coupled with the depth of questioning make them an invaluable resource. The calculated colouring sheets are especially popular.

The 10ticks sheets cover everything I could possibly want from simple introductions to complex extensions for top end Year 6. They challenge pupils to apply their knowledge in different ways and have given me, as a teacher, new ways of looking at, introducing and reinforcing concepts. Tasks such as the prime pirate maze or the factors and multiple game test pupils true understanding rather than relying on simply regurgitating methods or working through procedures.

Pupils throughout our school have benefitted from using the 10ticks sheets through the reinforcement offered, each sheet provides plenty of questions allowing pupils to better internalise and assimilate concepts and relationships quicker and with much greater levels of retention. Pupils enjoy the variety on offer and the mix of challenge and accessibility.

The variety and the depth of work on offer. Also the range, with one scheme I'm able to introduce the very earliest of number concepts right through to post GCSE work. Pupils are familiar with the layout and expectation and the ability to differentiate is a real bonus.

10ticks is always my first port of call when designing a new topic, to the point where I often look at what is available through 10ticks and work backwards incorporating the tasks into my planning and teaching. A typical day for me, especially as I teach two sets across Year 5 and 6, involves either photocopying the sheets that best fit the needs of my set. I like to go for a mix of procedural sheets that offer repetition of methods coupled with some of the more challenging / abstract sheets to provide extension and homework. If pupils are fairly well through a topic I will look for one of the games to provide pupils with an opportunity to put their understanding into practice.

I always look for a variety of tasks throughout the week, ranging from collaborative group work activities to individual consolidation tasks and exercises that will provoke discussion. 10ticks provides exactly this."
What the students had to say
"10ticks is challenging but fun and there's always plenty to keep me going. There is always something new to try, they're not worksheets like we get in other lessons, it's fun and engaging work that happens to come on a sheet. I especially like the calculated colouring and the mazes and games."
Matthew Year 6
---
Mr. Scale of Tenby Junior School is a 10ticks Teacher.
Mr. Scale uses the worksheets with his Primary school as a differentiation resource, for targeting key areas, as a homework resource and for extension work.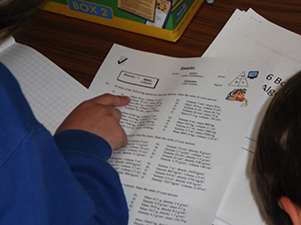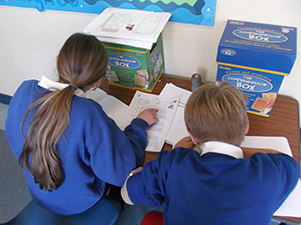 "I mainly use 10ticks as a differentiation resource. 10ticks is great for targeting key areas that most schemes do not cover. I also use the activities as homework.

For me it is a comforting to know that I have extensions ready for all the topics regardless of the varying abilities within the same year groups, whether the children are in Years 1, 2, 3, 4, 5 or 6.

They feel comfortable to attempt the activities even if they haven't attempted the topics before because the worksheets are clearly explained with examples. The examples are clear and easy to understand.

I also use the worksheets as an extension activity for my high achievers; I will often use them depending on the weekly topic i.e. If we are studying percentages I will search for percentages, using the New Search Tool, find the relevant pages and check that they are more difficult than my current work. They always are, because the worksheets progress in difficulty, which is perfect in helping me to push my students on. The benefit of the new symbol system for the 2014 curriculum means that I can give students in the same year group different difficulty levels without them knowing".
---
Mrs. Butler of Manor High Community School is a 10ticks Teacher
Mrs. Butler uses the worksheets with her Primary School for helping students who are struggling.
"The packs have proved to be worth every penny especially when used with the less able children who do not appear to realise they are doing quite complex problems, within their ability range, when solving problems such as the Multiplication and Division Mazes".
---
Mrs. Cloudsdale of Richard Challoner School is a 10ticks Teacher
Mrs Clousdale uses the worksheets through all year groups for added depth and value to the National Curriculum.
"We at Richard Challoner School find your resource most useful through all year groups and abilities. Every member of the department will go to the 10ticks supply of worksheets rather than trawling through old text books and we are never disappointed with what we find - added depth and value to the curriculum. Thank you for all that you do for the pupils at our School".